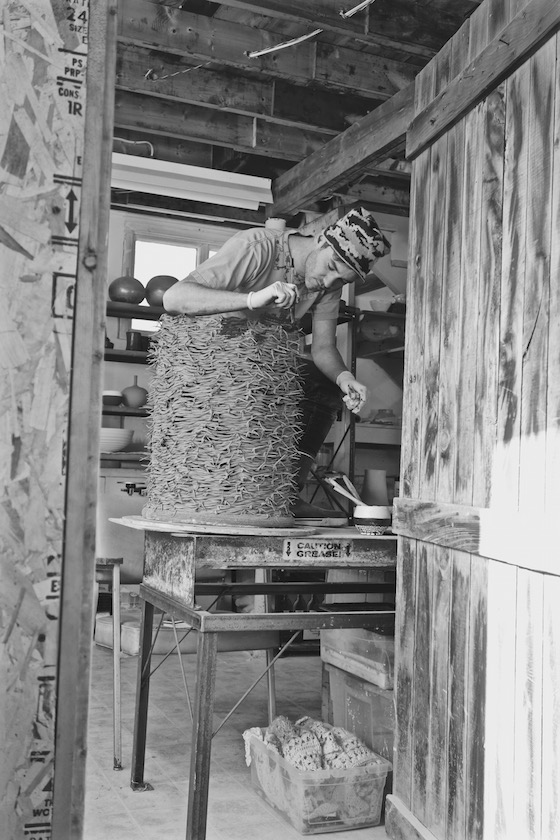 If you would like to contact me, you can do so here! I am proudly represented by Judith Mackin at Tuck Studio in Saint John, NB.  Judith is a Saint-John based entrepreneur and a dedicated patron of the arts.  Please contact Judith to see the works I have available.  judith@tuckstudio.ca  Gallery located at 122 Prince William St. Saint-John New Brunswick. 
BIO
I was born in New Brunswick, Canada and studied craft at NBCCD before moving to Toronto to study printmaking and painting at the OCAD-University where I received a BFA in 2010.  I am in love with the process of making and would consider myself to be an artists unbound by medium.  I am currently creating sculptures and installations using glass, clay, bronze, aluminum, wax and neon lighting.
My artwork has a visual language that has been intensely shaped and influenced by my east-coast heritage as well as urban and rural landscapes.  The work often reflects things within the landscape that may fade, crumble, collapse or burn away.  I search for these beautiful qualities because they remind me of the fragility of life.
Permanent Public Artwork 
2010 Kaleidoscope, Curated by Rina Greer, a permanent public artwork for the Toronto Transit Commission – TTC, St Clair Avenue West streetcar line, Old Westin Road.
Solo Exhibitions
2016, Mood Indigo, works on paper.  Tuck Studio, Saint John NB, May 2 – June 5.
2015, Collection of Curiosities, works on paper. Tuck Studio, Saint John NB. November 30. 
2012, Casting Silence, Ingrid Mueller Art + Concepts, Fredericton NB.  March 2-30.
Group Exhibitions
2016, Reflections, Queenstown Heritage Association, Courthouse Gallery, NB, July 17 – September 16. 
2016, Making Our Mark, Sunbury Shores, St. Andrews NB, June 3-30.
2015, Nuit Rose, Mourning the Morning, Artscape Youngplace 2nd floor gallery, Toronto Ontario. June 15 – July 5. 
2015, Spotlight, University of New Brunswick Art Gallery, Fredericton NB. January 16 – February 26.
2012, Perception Shift, Richard Stockton Art Gallery, Galloway NJ, USA. Curated by Heather Gibson. Artists Wade Aaron, Sienna Freeman, John Langdon, Bovey Lee, Kristen Neville-Taylor, Ryan Livingstone, Michelle Vitale Loughlin, Mat Ollig, with a short film by the Quay Brothers.  September 5 – November 17, 2012.
2012, Landscapes – This is Paradise, Ingrid Mueller Art + Concepts, Fredericton NB. January 27 – February 20.
2011, Harbinger, for Leitmotif, Scotiabank Nuit Blanche. Curated by Stuart Keeler, exhibitions in Cube-Box rental trucks, transform Parkdale into hybridized landscape.   October 1.
2011, The Kids on the Block, Ingrid Mueller Art + Concepts, Fredericton NB.  March 25 – April 29.
2009, The Leona Drive Project, site-specific installations in six post war bungalows. Curated by Michael Prokopow and Janine Marchessault; Artists include Arbour Lake Sghool, Daniel Borins and Jennifer Marman, Robin Collyer, Christine Davis, John Greyson, David han, Oliver Housain, Ryan Livingstone, Lisa Steele and Kim Tomczak. Willowdale, ON. October 22-31. 
2009, Experiencing Perspectives, Mercedes-Benz Financial, Toronto ON. Curated by art program manager Leila Matta, for Damler Financial Services.
 Collaboration Projects 
2012 Music video for Daredevil Christopher Wright.   Grandson and Son Productions.   Due to be released 2013.
2011 Creative photo shoot for CHANEL 2011 f/w collection. Canada's leading fashion photographer Chris Nicholls, creative editor/director Juliana Schiavinatto of Pulp Magazine, CHANEL, exploring art and fashion for CHANEL f/w collection.
 Publications
PULP Issue #4 – Innocence Within, Edited by Juliana Schiavinatto and Arkan Zakharov. F/W 2011.
Public Journal #43 – SUBURBS, Edited by Steven Logan, Janine Marchessault, and Michael Prokopow. Spring 2011.
Exhibition Catalogs
The Leona Drive Project, Curators
Michael Prokopow and Janine Marchessault The Toronto: Public Access, 2011.
Experiencing Perspectives, by Mercedes-Benz Financial, 2010-2011.
Articles and Reviews 
Casting Silence, The Telegraph Journal, by Karen Ruet, Saturday March 25, 2012.
In conversation with Ryan Livingstone, The Telegraph Journal, by Mike Landry, Saturday, March 2, 2012.
Art invasion: the Leona Drive Project, Globe and Mail, by Lisa Rochon, Saturday, Oct. 24 2009.
Top 10 art shows: the best of 2009, Now, by David Jager, Leah Sandals and Fran Schechter, December 22, 2009.
Making art of Toronto suburban archipelago, The Leona Drive Project, Now, by Fran Schechter, October 22, 2009.
Between old and new, an artful transition, The Star, by Brendan Kennedy, October 21, 2009.
Burton In The Big Smoke, (3 page feature on my current body of work) Telegraph Journal, by Karen Ruet, August 11, 2007.
Awards
Jean Townsend-Field Memorial Award, 2007.
Barbara Bartlet Award, 2004.
Education
BFA from The Ontario College of Art and Design University. 2010.
Studied at Toronto School of Art 2003.
Studied at the New Brunswick College of Craft and Design 1998.